Effervescent Tablets
Disinfectant | Sanitizer | Cleanser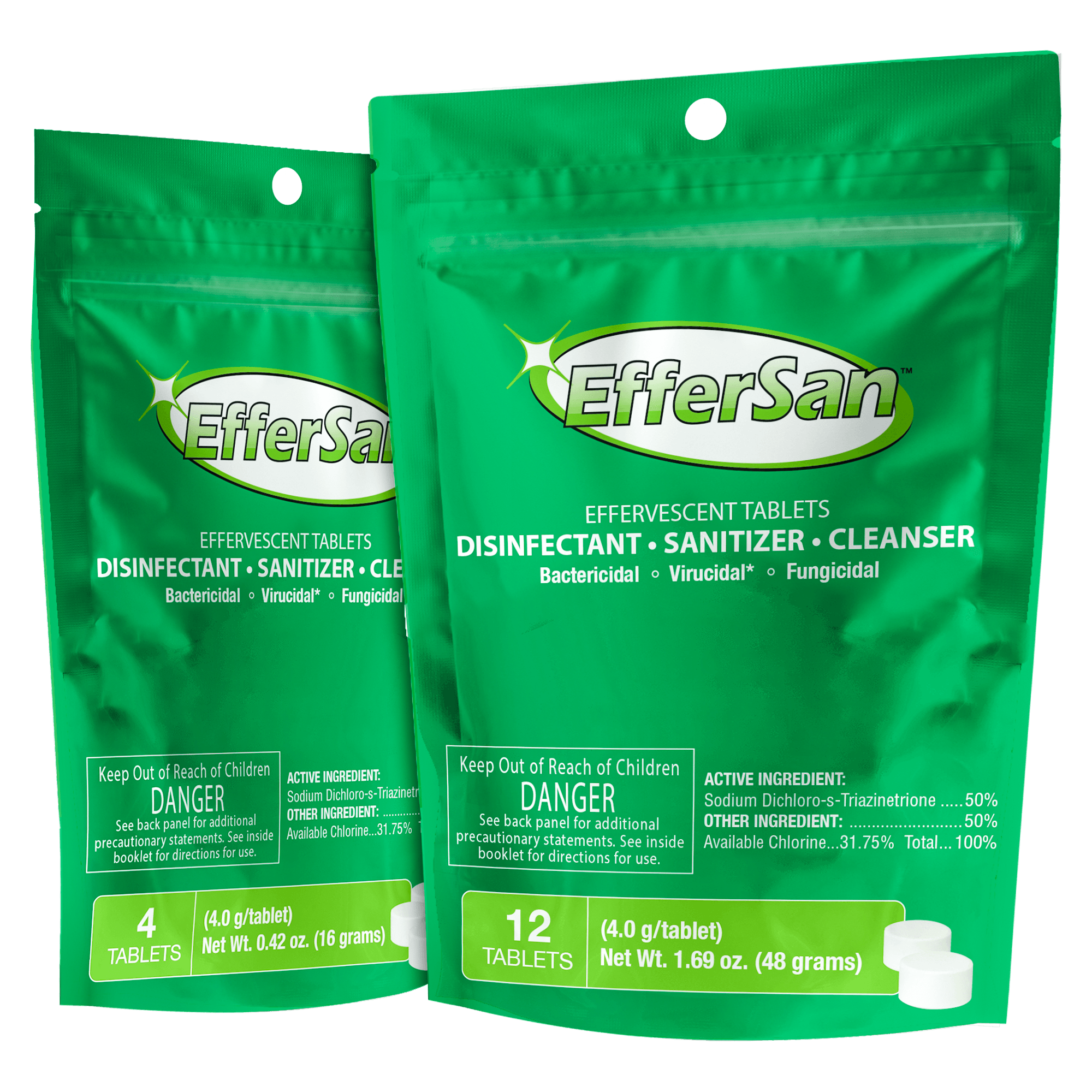 Effervescent Tablets
Disinfectant | Sanitizer | Cleanser
One Tiny Tablet, So Many Uses
EfferSan is a highly effective multi-purpose sanitizing and disinfecting tablet. It creates a mild, non-irritating solution which aids in the elimination of odors and a broad range of viruses and bacteria.
Mix 1 tablet with 32 oz of water for 1 quart (32 oz) of disinfectant.
Mix 3 tablet with 384 oz of water for 384 oz (3 gallons) of sanitizer.

Fill the container with water.

Add tablet(s) to water and let dissolve.

Use to eliminate odor, sanitize, or disinfect.
EfferSan tablets are registered with the EPA and produce a mild, non-irritating solution when mixed with water. In fact, the tablet is dissolvable in both hard and soft potable water. The solution sanitizes 99.999 percent of bacteria in only 60 seconds and completely disinfects in only 5 minutes.
On top of that, the EfferSan solution protects and controls odors, mold, and algae; it also avoids staining and is fabric friendly. EfferSan tablets are economical and cost effective and are easy to ship, store, and dispose of.
Order EfferSan Tablets Today
Dangerous microorganisms will continue to thrive, mutate, and cause sickness and death. Microorganisms can adapt and grow by accelerated means, going from the surface and human transmission to being airborne. 
EfferSan Tablets can help protect facilities from the high financial and human costs associated with the onslaught of dangerous microorgansisms. Reach out to ATS ChemDepot to protect you and your organization today.